Composites – Patterns complete

Work is progressing well at Norco, with construction of the fuselage, wings and composite components of the Axe EVTOL already underway.
As shown below, the tooling is being constructed using CNC machined full size patterns, from which the tooling will be moulded. The fuselage tooling is vertically split with the laminates laid up into each half, which allows the possibility of curing in one piece.
The processing route for the fuselage, wing skins and undercarriage legs is resin infusion, which provides low void content, repeatable and lightweight mouldings at low cost.
The fuselage is of sandwich construction, with carbon spread tow fabric outer plies and carbon/aramid hybrid inner plies. The hybrid material is chosen for impact absorption and to minimise splintering in the cockpit area.
To improve the surface finish of the patterns, they are faired, filled and primed. We now are now manufacturing the tooling, which we expect to be completed in mid-March, following following which we can begin manufacturing the parts themselves.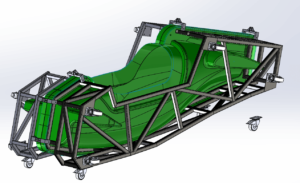 Skyfly aims to achieve a fuselage weight of just 35kg. This low weight structure is only achievable through the use of light weight composite structures which can retain the required crash-proofing and structural strength needed. The aircraft fuselage consists of a main shell built in one piece, with a nose and tail cone.
Flight controller 
Embention has more than 15 years of experience developing high-performance avionics systems and motor controllers for electric aircraft and EVTOLs in compliance with DO178C and DO254 aeronautical certification standards. They work closely with numerous leading EVTOL manufacturers.
Because the Axe is being manufactured according to aeronautical certification standards, the flight control system supplied by Embention plays a key role in our certification process, as its compliance with DO178C and DO254 enables EVTOL certification for integration into UAM (Urban Air Mobility) environments. In addition, the system has successfully passed environmental tests according to DO160 / MIL-STD-810 and has MTBF data, ATR (Acceptance Test Report) and other documentation for certification.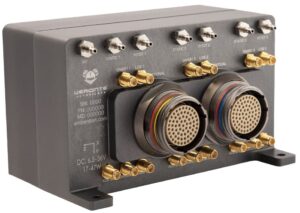 Skyfly has been working with Embention on preparing and tuning the flight control system in order to conduct hardware in the loop simulations. This means that we can actually fly the aircraft in a simulated environment prior to the hardware being installed on the aircraft.
Propulsion system 

The Geiger HPD50 motor has a peak power output of 70KW from a motor that weighs just 15kg. Whilst from the exterior it looks like a single motor, there are infact two independent motors housed in the casing that run independently, powering a single unified shaft. This is both for redundancy purposes and also to negate the need for a co-axial system, which adds weight, complexity and vibration, while also decreasing efficiency.
Some of the tests that are conducted as part of our certification package have been designed to demonstrate the robustness of the system when encountering heavy rain. In order to test this, Gieger have gone one step further: the motor, with hall sensors, is attached to a tripod with a motor-controller MC300, and full submerged in water. The motor controller is fed via a power pack EA-PSI-9080 and a BMS downstream. The supply voltage is set to 60VDC.
The motor is then run for 30 minutes underwater, including being stopped and started while submerged. Finally, the motor is lifted out the water into the open air and run for a further 30 minutes to dry off. After 3 weeks, the motor is then tested again to check for any changes in performance.
These tests determined that motor runs without interference underwater. The control measurement with the thermal imaging camera confirms that there is virtually no physical heating; the water has a starting temperature of 18°C and an end temperature of 19°C after 30 minutes. Electrolysis cannot be observed. The running test after three weeks showed no change from the nominal values, and no corrosion can be detected either.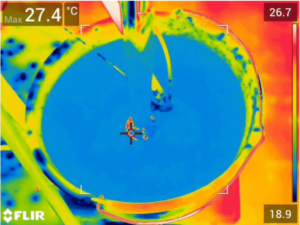 The tests have, therefore, confidently shown that the motor can easily run under water without ill effects.